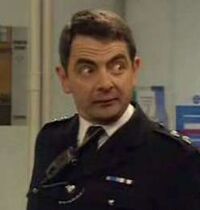 Inspector Raymond C Fowler (Rowan Atkinson) is in charge of Gasford Police Station, which is shared with the CID department, fronted by Derek Grim.
Character
Edit
Inspector Raymond C. Fowler is an old-fashioned policeman, whose lack of interest in sex annoys his live-in girlfriend of ten years Sergeant Dawkins. He was previously married, and his college-age son Bill made one appearance in the series. His former wife Susan is alluded to but never featured. Inspector Fowler has a strong devotion to duty and takes his job very seriously, sometimes showing a lack of contemporary social awareness that amuses Habib and annoys Grim.
He has been known to (usually unwittingly) perform very courageous acts in the line of duty. Among the cast, he most closely characterises the "stiff upper lip" English official, at least while on duty. He is a member of the local drama society and fancies himself an actor. His hobbies include reading Biggles and building miniature models. He is patriotic and occasionally makes disparaging remarks about other nationalities. He is against firearms and has refused over 92 firearms applications, and approved none.
Despite his strong faith in the law, he is also willing to bend the rules in an unjust situation, exemplified when he blackmails a skinhead's mother into dropping charges against Constable Goody (who had punched her son in defence of Habib) and later Inspector Grim into dropping charges against Habib for withholding drug evidence (which she had done to protect her younger sister).
Ad blocker interference detected!
Wikia is a free-to-use site that makes money from advertising. We have a modified experience for viewers using ad blockers

Wikia is not accessible if you've made further modifications. Remove the custom ad blocker rule(s) and the page will load as expected.