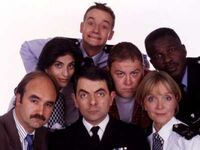 The following is a list of episodes for the British sit-com The Thin Blue Line on the BBC, which first aired on 13 November 1995 and ended on 23 December 1996.
It has broadcast two series with seven episodes each, including a Christmas special at the end of series 1 on 26 December 1995.
Series 1
Edit
Series 2
Edit
Court in the Act
Ism Ism Ism
Fly on the Wall
Alternative Culture
Come on You Blues
Road Rage
The Green Eyed Monster
Ad blocker interference detected!
Wikia is a free-to-use site that makes money from advertising. We have a modified experience for viewers using ad blockers

Wikia is not accessible if you've made further modifications. Remove the custom ad blocker rule(s) and the page will load as expected.